Retail Marketing, B2C Marketing, Consumer Promotions and Rewards
What retail brands are doing for the new year

Lindsay Keener
Brand Journalist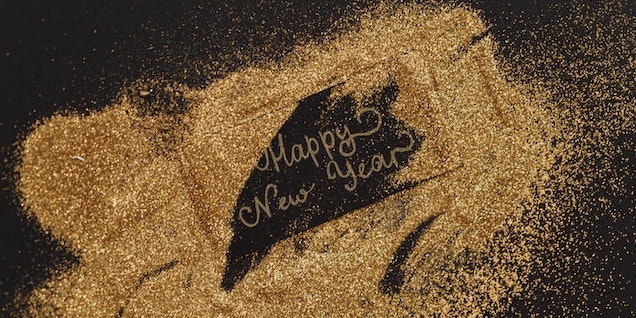 With 2023 underway, many brands are catering to the fresh start a new year brings with major deals, tailored products and celebratory marketing. Brands are displaying their new year promotions front and center, showing their deals in bold, big letters with eye-catching graphics to match.
Consumers are coming off the heels of some major shopping-centered holidays and are dealing with inflated prices. Brands know that consumers are strapped for cash, and they're offering solutions right in time for the new calendar year.
We found retail brands who are ready to take the new year by storm. Here's four promotions brands are using to the kick off 2023:
1. Amazon's New Year Sale
The season of giving isn't quite over for Amazon. The e-commerce company is kicking off 2023 strong with its "New Year Sale." Shoppers can save up to 40 percent on items they've been eyeing or new ones they haven't been introduced to previously. Deals range across various categories, such as Amazon devices, fashion, kitchen appliances and more.
Amazon also simplifies the browsing process by allowing shoppers to see deals specifically catered toward the winter season, frequently purchased items and the user's browsing history. The brand's last big sale of 2022 was its Boxing Day event, a post-holiday year-end event honoring the age-old holiday of the same name.
(Image Source: Amazon)
2. Gap's trifecta of sales
Looking for a sale? Gap has them in spades and its website isn't shying away from spreading the news.
The sales cover various apparel options, including tops, undergarments and outerwear. Markdowns are indicated with a greyed-out price and line through the middle. The new price is shown below in red. But the sales don't stop there. All activewear is also being sold at a discounted price. And when consumers use codes provided by the brand, they can benefit from an extra 60 percent off markdowns, using the code "SALE," or an extra 30 percent off regular-price items using the code "THIRTY" (this deal is limited to online customers only).
(Image Source: Gap)

3. Kroger's strategic New Year messaging
Meaty deals are everywhere in 2023, including with the grocery chain Kroger. Not only is Kroger joining in on the new year fun, but the company is also celebrating the 10-year anniversary of its Simple Truth line of natural and organic products. Kroger's choice to include the anniversary on their website is nothing short of a smart move. By including headings like "The Best Year Is Here" and "Healthy Eating for the New Year," the grocery chain is leveraging common new year's resolutions (eating healthy, saving money and living a better life) in their messaging.
(Image Source: Kroger)
4. Target
Inclusion is the name of the game for Target. In preparation for the Lunar New Year beginning January 22, Target has started promoting its holiday dinnerware, decorations and more. Target's collection for the Lunar New Year features Asian artists, businesses and creations. The retailer has created a one-stop shop landing page with everything anyone would need to celebrate the upcoming Chinese holiday.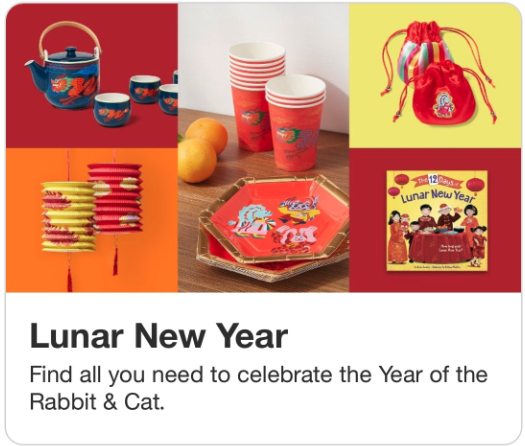 (Image Source: Target)
The new year is here, and there are plenty of brand deals to help celebrate. Incorporating campaigns that meet current consumer needs, are easy to navigate and serve all members of an audience base are components of a strong new year marketing plan.

Lindsay Keener
Lindsay Keener is a brand journalist for Quikly. She covers stories that help to inform and educate consumer-facing marketers.

Lindsay Keener
Lindsay Keener is a brand journalist for Quikly. She covers stories that help to inform and educate consumer-facing marketers.