Whether it's limited time offers, product innovations or other incentives to get people in the door — brands are vying for consumers' attention both in person and online this holiday season.
So how are restaurants and retailers utilizing the buying season to acquire new customers and attract existing ones?
The answer is largely based in consumer psychology. Below are just a few ways marketers are using tactics like scarcity, anticipation, social proof, fear of missing out and competition:
New Products
Del Taco is taking a delicious, cultural tradition and bringing it to their holiday menu for everyone to enjoy for a limited amount of time.
There's an added narrative to this product, which can give customers a sentimental and special feeling about these tamales.
"For many Latinos in the United States, the holiday season is synonymous with tamales. Families gather together to make and eat these beloved packages, often well into the new year," per an article in The Atlantic.
This offer is a pretty unique branding opportunity not everyone in the restaurant space can replicate.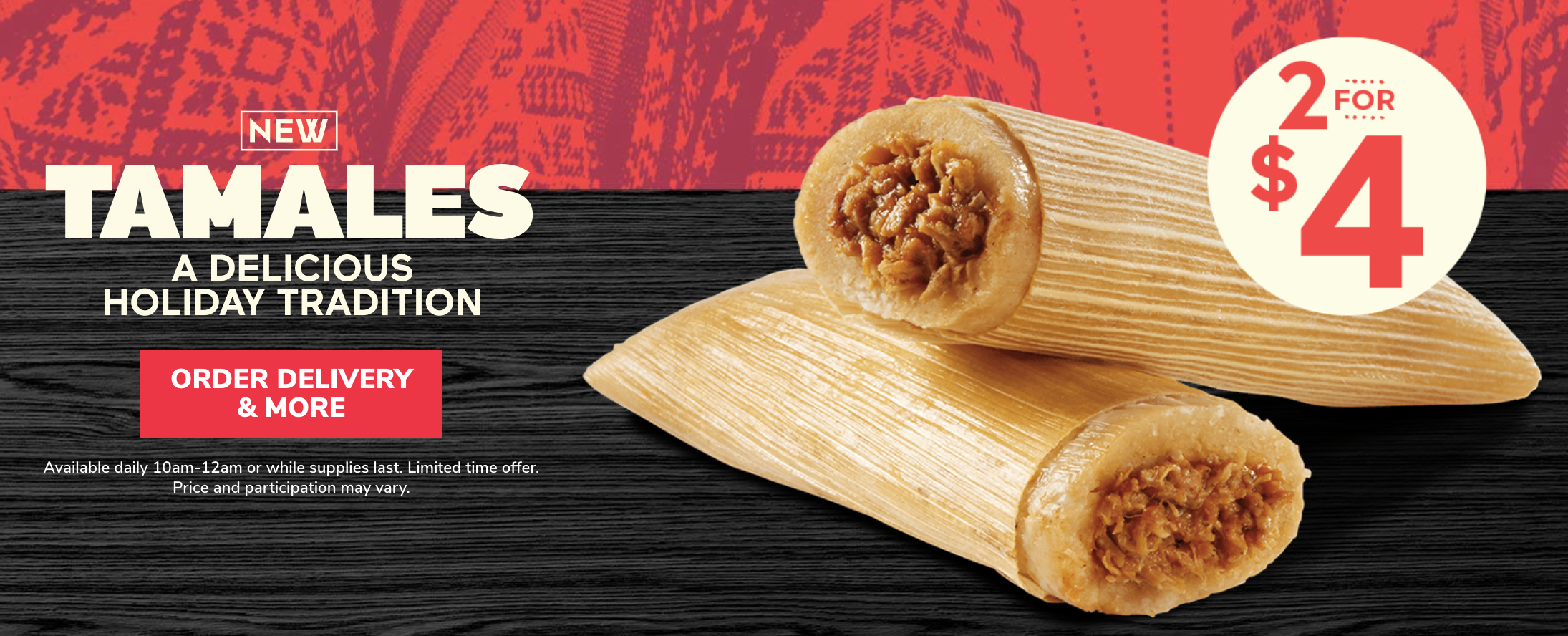 Starbucks is doing a few things to take advantage of this season. The brand is currently offering a drink that customers can only buy during the winter months.
In addition to the drink, every Thursday from 2 p.m. to 7 p.m. in December is "Merry Happy Hour." On those days, consumers who buy a handcrafted grande or larger drink, gets another for free at participating stores.
Last, but certainly not least, Starbucks is advertising a promotion called "Starbucks for Life" — encouraging customers to sign up as loyalty members if they aren't already. The winner will receive a daily credit for 30 years for one free food or beverage item at participating stores.

TGI Fridays is offering an entire menu of holiday cocktails at $5 each. The restaurant teamed up with Delish, an outlet covering all-things food owned by Hearst Digital Media, to create the festive drinks.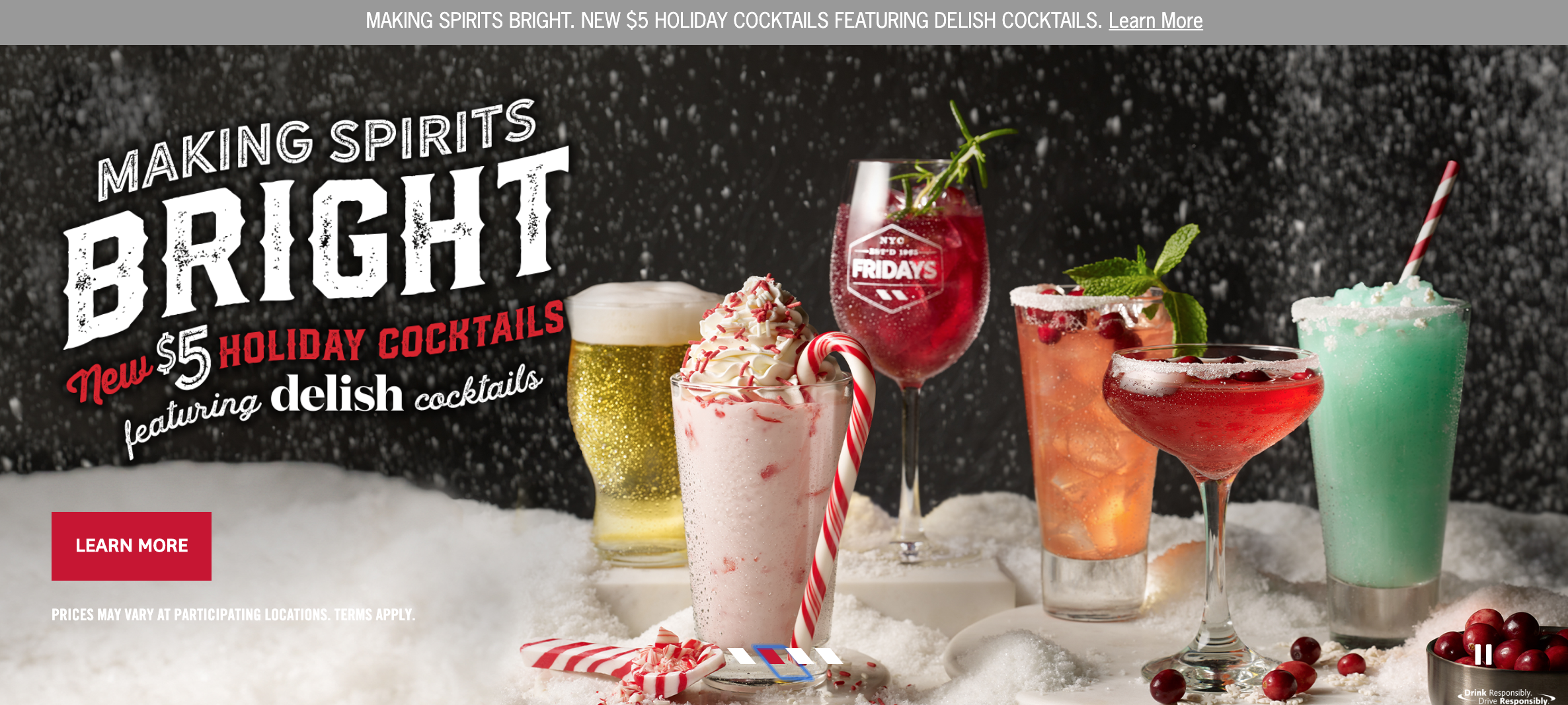 When consumers see that new, "special" products are only available for a certain amount of time, their brains' heightened cognitive processing kicks in. Consumer Psychologist, Dante Pirouz, explains that this often elicits anxiety when forecasting the future absence of said rarity,
Additional Incentives
It's a common present to give this time of year: restaurant gift cards. And The Cheesecake Factory is trying to incentivize consumers to buy from them instead of other restaurants. With every gift card a consumer purchases, they receive a slice of cheesecake.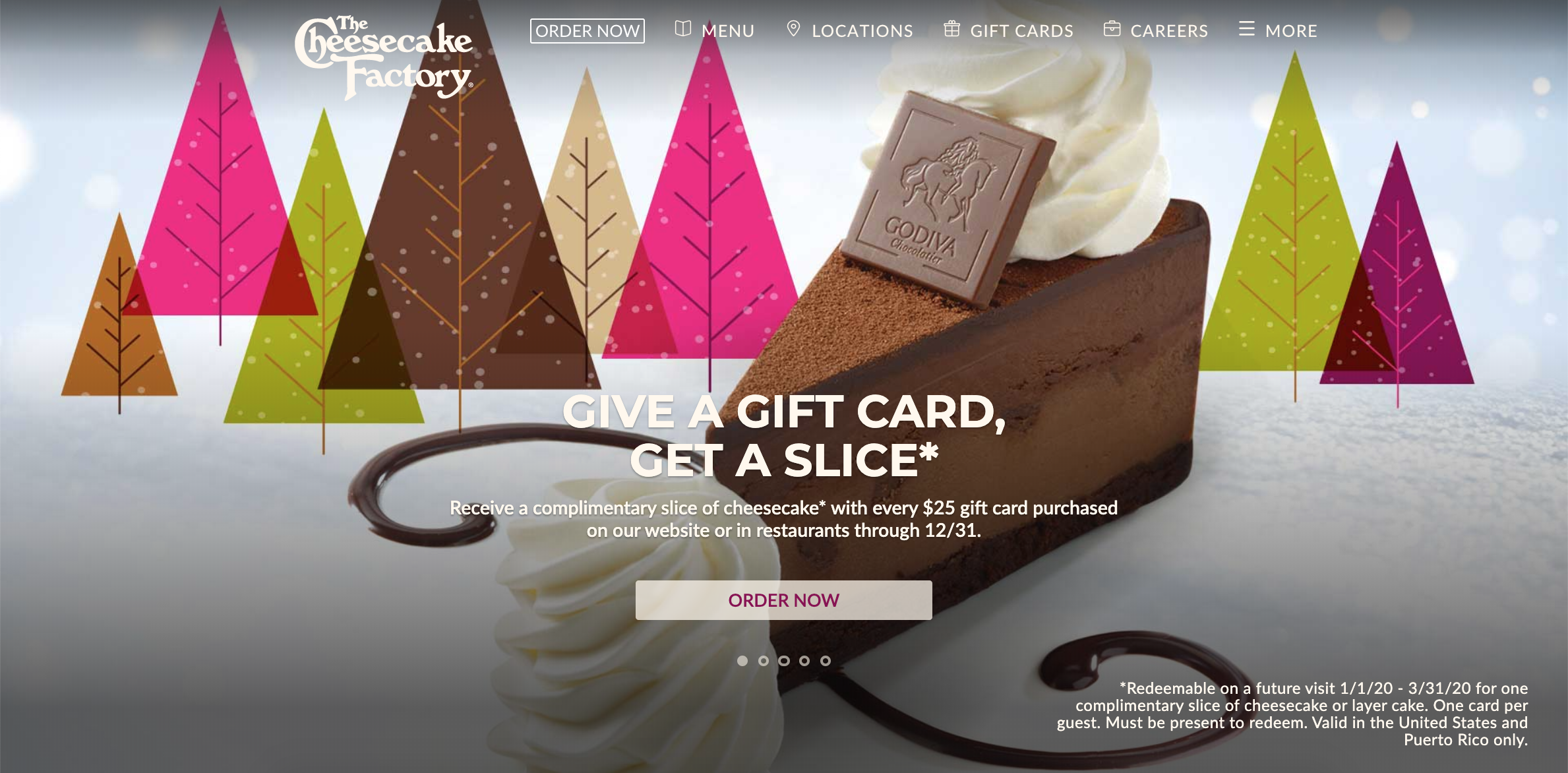 Events
Experiential marketing has been a popular trend in 2019 and Amazon has taken note.
From December 22 to 30 in New York City, Amazon Prime Video and The Marvelous Mrs. Maisel will collaborate with INTERSECT BY LEXUS – NYC to celebrate the eight marvelous nights of Hanukkah with a culinary event. Giveaways are included.
According to a press release, "the partnership will bring to life the heritage of Hanukkah for each of its eight nights, starting with a special Menorah lighting."
Notably, because we're living in the digital age, people are certainly putting all of these festive products and experiences on social media and telling acquaintances about them in real life.
This often leads to a "social proof," which is the idea that if one person does something so will others, as stated on Hubspot's blog.
With everything mentioned above, and noticeably so much else out there this time of year, consumers may fear missing out on consuming products that are only available around the giving season.
One thing is for sure: consumer psychology is alive and well this holiday season.