After days of great deals ahead of the gift-giving season comes Giving Tuesday, which has been encouraging people to give back to their communities and favorite charities since 2012. It uses the same consumer psychology that's behind the days just before it: Black Friday, Small Business Saturday and Cyber Monday.
This psychology is based in urgency marketing. On Giving Tuesday, it also tugs at the heart strings of consumers. Here is how just nine brands partnered with organizations to amplify philanthropic efforts this past Giving Tuesday:
1. H&M
Popular retailer H&M teamed up with Emmy, Tony & Grammy award-winning artist Billy Porter to support The Trevor Project in a match campaign. The organization provides free and confidential crisis counseling to LGBTQ youth.
Starting November 30th, customers could give to The Trevor Project, and H&M would match all donations up to $250,000.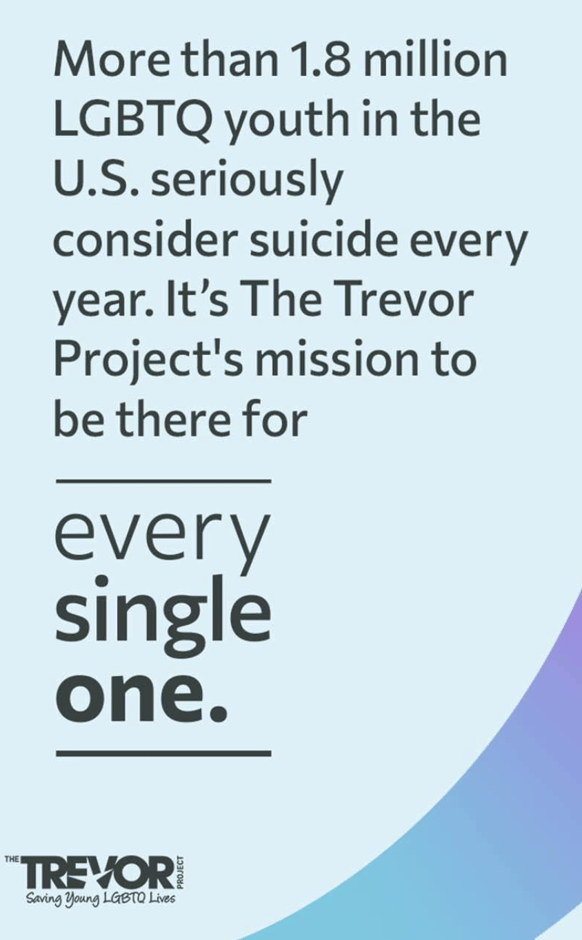 2. DICK'S Sporting Goods
For a week starting Giving Tuesday, DICK's Sporting Goods Foundation, the giving arm of DICK'S Sporting Goods, triple-matched donations to all Sports Matter projects on DonorsChoose. This meant every $20 donation would become $60, incentivizing people to give what they could in that timeframe since their donation meant even more.
Additionally, between November 27 and December 21, the organization's Giving Truck will deliver the gift of sport, by providing children from sports organizations in under-resourced communities the gear they need to stay in the game.
DICK's also created a short film featuring the Co-op City Tennis Club, part of New York Junior Tennis & Learning, after gifting them a $100,000 grant in addition to new tennis equipment.
3. Nordstrom
Nordstrom incentivized a festive product purchase through the end of December. With each purchase of a Bliss throw, the brand makes a donation to Operation Warm, "a nonprofit organization that provides kids in need with brand-new, high-quality coats so they can stay warm this winter and play outside with confidence."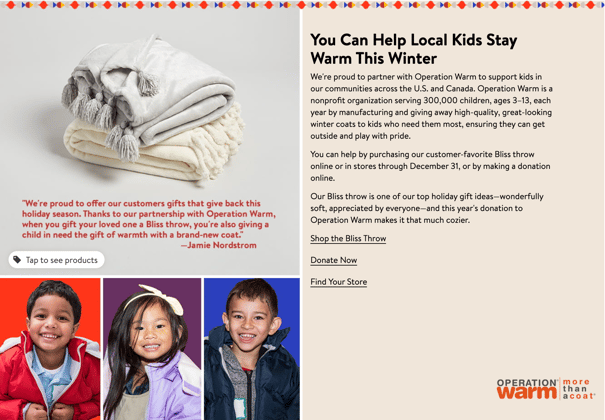 4. Detroit Tigers
The Detroit Tigers Foundation's Autographs for a Cause program motivated donations to a few charitable organizations with limited-edition Topps baseball cards signed by the team's players. Any donations made in this program were matched by the participating Tigers player, making for a unique and customizable experience for people who participated.

5. Moosejaw
The retailer known for its outdoor recreation apparel encouraged product purchases by giving 10% back to The Conservation Alliance. Donations to the organization will be used to fund projects that protect the wilderness. In an Instagram post, Moosejaw wrote: "Shop today to help give back and then picture a little tree or river or critter somewhere saying 'hey thanks.' "
Additionally, with purchases made on Giving Tuesday, customers would get $20 to $100 to spend on Moosejaw products.

6. Athleta
To promote safety during the pandemic, this Giving Tuesday, Athleta started donating all net proceeds from their mask sales to Fashion Girls for Humanity, a nonprofit founded by women, helping communities affected by the pandemic. The promotion, helping to keep people safe from COVID-19, will end at the end of January.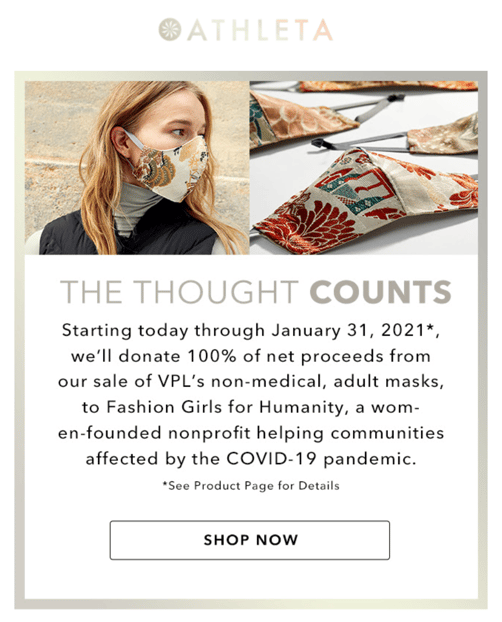 7. Apple
This year, Giving Tuesday fell on the same day as World AIDS Day, which is why Apple rolled out red products to correspond with its philanthropic effort to support people impacted by HIV/AIDS and COVID-19. Apple's website states: "COVID‑19 is creating challenges in accessing care, treatment and supplies in the fight against AIDS."
Every purchase made with Apple Pay at its store, website or app, the company will donate $1 to this cause from December 1 through December 7.

8. American Eagle & Aerie
For one day only, AE and Aerie donated ten meals for every RealRewards purchase made in stores and online to Feeding America, the nation's largest domestic relief program.
This effort not only provided 350,000 meals, but incentivized customers to engage with the brands in a way that encourages loyalty.

9. Thinx
The period-proof underwear company supported Boys & Girls Clubs of America with a $25,000 donation. Since 1860, the organization has worked to empower America's youth.
But not only that, Thinx helped their customers support the organization as well. In an email, the brand wrote: "If you're looking for a way to help us support their work, we have you covered! At check-out, you can also add a donation to Boys & Girls Clubs of America. Every dollar will help youth across the country reach their full potential. 💪"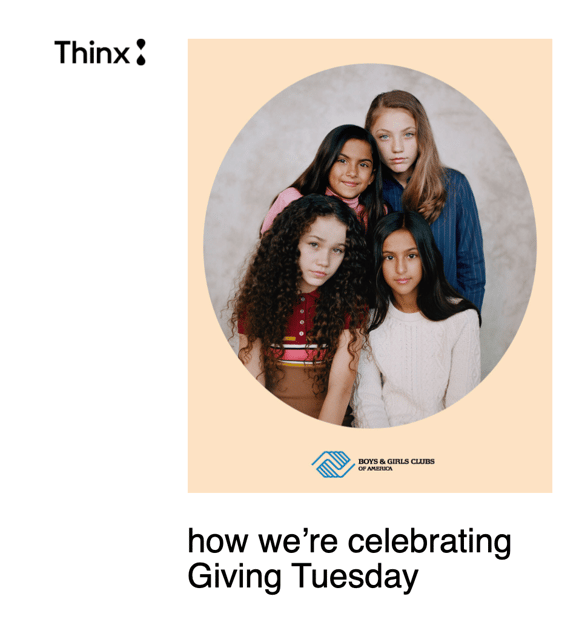 Certainly, these partnerships on this day will help thousands of people in need. And thanks to digital events, like Giving Tuesday, consumers are able to engage with brands in a way that will leave them feeling good.