Consumer Psychology, B2C Marketing
2 consumer psychology takeaways from INBOUND 2022

Lindsay Keener
Brand Journalist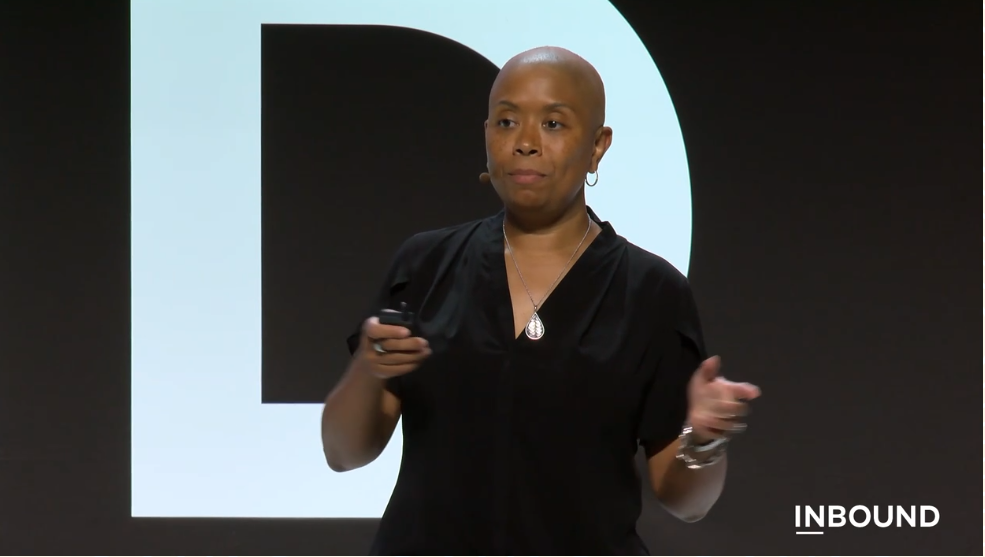 As a newfound lover of all things consumer psychology, it doesn't take long for me to recognize instances involving brain science and brand marketing. When INBOUND 2022 began this year, I noticed a pattern immediately: Session leaders were discussing psychological principles, indirectly and directly.
To simplify the perspectives shared, I've collected two main takeaways from various INBOUND sessions.
1. Consumer decisions are influenced by more than brand material
It can be easy to assume that consumer decision-making only revolves around choices that were first made by a brand (the product description, functionality, brand credibility). But there are other scientific factors that influence consumers' actions.
Allyson Hughley, Global Director of Customer Insights at LinkedIn (pictured above), held an INBOUND session on how brands can win mindshare to grow market share. The 30-minute talk began by outlining a few worldly elements that can impact consumer behavior. She mentioned major societal changes like global pandemics, political polarization and technological innovation.
While these may seem like non-related issues, we ask you to consider this question: If a customer is concerned with finances during an unprecedented time, how could that affect their engagement with a brand? In the words of Hughley, "These are things that play on the psyche and consume mental space."
So what's the answer for winning the battle on mindshare? When consumers are taken for a loop by mental pressures, they need brands to cut through the noise and offer them simple solutions.
2. Emotion drives action
As a marketer, there's very little that you want more than strong consumer engagement. However, encouraging forward action isn't always easy.
Tandem Webster, Founder and Chief Message Strategist of Find the Red Thread, says emotion is the missing link.
She refers to it as the "logic of emotion" and says that every decision has a story. What she means by this is that consumers' choices are often fueled by emotions supporting a certain idea or "story." This story could be that the consumer will look good in a certain pair of pants, thus it's worth the purchase, or that the dessert will satisfy their sweet tooth and they should indulge.
Stories are made of three parts: setup, conflict and resolution. The setup is when you are introduced to something, the conflict is an issue that needs to be solved, and the resolution is the ideal outcome. Consumers need a story when interacting with marketing messaging, they help consumers make sense of the content being presented.
Stories also fuel feelings. When a story is complete and provides consumers with information on how a specific brand or product can enhance their experience, it helps a consumer better understand and connect with the content. The more connected a consumer is with a brand, the more likely they are to engage further.
INBOUND 2022 offered some great insights into the minds of consumers. While consumer psychology isn't a new topic, it is one of the many concepts gaining traction with marketers as brands work to better understand their customers.

Lindsay Keener
Lindsay Keener is a brand journalist for Quikly. She covers stories that help to inform and educate consumer-facing marketers.

Lindsay Keener
Lindsay Keener is a brand journalist for Quikly. She covers stories that help to inform and educate consumer-facing marketers.