Many people are choosing restaurants over third-party delivery services — here's why

Brian Wallace Baker
Brand Journalist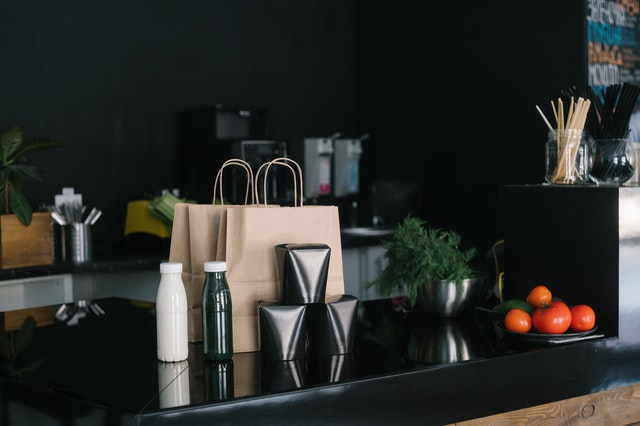 During the pandemic, brick-and mortar-businesses of nearly every kind have seen a decline in foot traffic, and the food service industry has been hit particularly hard. Many restaurants haven't survived. In the midst of this, you might assume more customers would flock to third-party delivery services, such as Grubhub, DoorDash and Uber Eats, which allow people to conveniently and safely order food from home or work. Yet recent research from Quikly shows this isn't necessarily the case.
The research, which collected the opinions of nearly 1,800 U.S. consumers in the spring of 2021, asked respondents to select where they expect to order the most food from over the next 6-12 months. The highest-selected response was "from restaurants," with 65 percent of respondents selecting this option. Next was "I expect to order regularly from both [restaurants and third-party delivery services]" at 17 percent, followed by "from third-parties, like Grubhub and DoorDash" at 8 percent.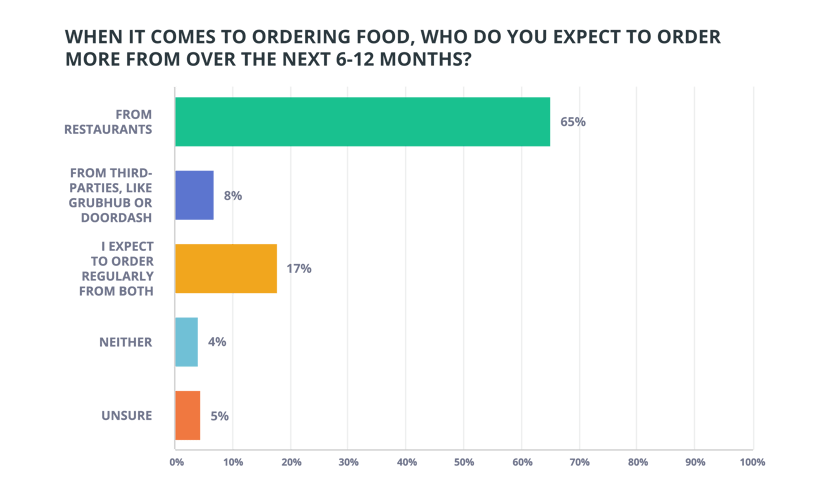 Consumers were also asked how, if at all, their response differed from food-buying habits at the beginning of the pandemic. The most-selected response, which far surpassed the other options, was "I will order more directly from restaurants," with 56 percent selecting that option. The second-highest response was "Unsure," which only came in at 14 percent.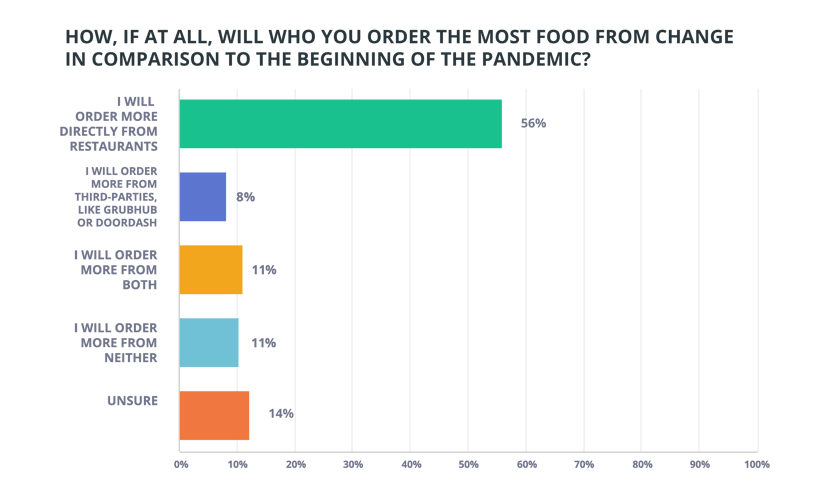 To get a better idea of why people are increasingly likely to order more food directly from restaurants, we invited consumers to share their reasons with us, and this is what they said:
Money
A lot of it comes down to finances — the fees charged by third-party delivery services are a deal-breaker for many people. While some consumers said the convenience is worth the additional cost, most said they are more likely to order directly through a restaurant to save money.
Many restaurants now have their own apps, too, which are cheaper for customers to use, because there are no third-party fees. Several people also pointed out that using restaurant coupons usually isn't an option through third-party apps. And even when a restaurant doesn't have an app or delivery service, many people told us they would rather call and pick up food themselves to save money.
Another financial consideration is that it's not just consumers who pay more through third-party apps. It also costs more for restaurants, which can make it harder for local businesses to make a profit. There is a growing awareness of this, and many people have responded by avoiding third-party apps to help support local businesses. One such person is Diana Brown of Seattle, WA. "We support our local businesses by using their native delivery service or, if they don't have one, ordering for pick-up and making the trip to retrieve our food," she said.
Ethics
In addition to financial reservations, many consumers told us they have also been influenced by recent articles that address the way some of these services may be treating their workers. We heard concerns specifically around pay for delivery drivers.
Location
Geography, it turns out, plays a role in how people order their food. Some live in rural areas where delivery services aren't available. Others live close enough to restaurants that going out to eat is convenient enough to fit their lifestyle. Still others enjoy the atmosphere of a restaurant and interacting with people more than the convenience of ordering from home. And some consumers brought up the point that these days, an excuse to get out of the house to get food is a welcome change of pace.
Technology
For some people, technology is an issue. Either they don't have a phone capable of running apps, or they don't know how to use delivery apps. Others prefer the human interaction of ordering in person or over the phone and find using an app less personal.
It's worth noting that we did not see a clear trend in age demographics here, as we heard from both younger and older generations that technology can be a barrier.
Customer Service
Some consumers feel that they get better customer service when buying food directly from restaurants as opposed to buying through third-party apps. "At the beginning of the pandemic, consumers were more forgiving of wrong orders and cold food, yet today that has changed," says Lisa Miller of Dallas, TX. "The bar is higher now. Consumers will have more trust in the tried and true brands."


Despite their drawbacks, delivery apps still have customers who find value in their service, like Robert Britton of Panama City, FL: "Convenience does push [me] toward a [third-party] service, but you need to also know I delivered part time for several delivery services, and you are also helping someone make ends meet, so consider the delivery service as another way of helping someone out."
There are many reasons why consumers choose to use or not use third-party delivery services, but this research suggests that for the foreseeable future, the majority of consumers plan on skipping the middleman and putting their money directly into restaurants.

Brian Wallace Baker
Brian Wallace Baker has worked in content creation since 2014, both in e-commerce and academia. He holds a master's degree in creative writing and lives in Kentucky with his wife and daughter.

Brian Wallace Baker
Brian Wallace Baker has worked in content creation since 2014, both in e-commerce and academia. He holds a master's degree in creative writing and lives in Kentucky with his wife and daughter.