At this point in the pandemic, with the rate at which things have been changing, it's difficult to plan how to best market to diners in the immediate, let alone over the next 6-12 months. Of course, understanding where diners are with their preferences and expectations can help -- which is why we conducted new research.
In this webinar, we'll release what we just learned from 1,800 consumers, in hopes that it'll help you maximize your marketing efforts. Among other data points, we'll reveal:
What diners have said has the biggest influence on their purchase decisions right now

Which channels are most impactful for customer outreach

Whether diners plan on spending more money with restaurants directly or third-party delivery services like Grubhub, DoorDash and Uber Eats

Whether diners plan on continuing to leverage off-premise features and curbside pickup over the next 6-12 months

How likely diners say they are to eat inside restaurants in the next 6-12 months
We'll also share the trends identified as we compared this data to other consumer research we've conducted throughout the pandemic. And we'll answer any questions you might have on the topics discussed.
Fill out the form to get the on-demand webinar.
We look forward to having you join us!

ABOUT THE SPEAKER: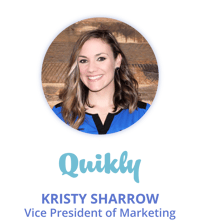 Kristy is head of marketing at Quikly, a technology platform that leverages incentives and psychology to help brands immediately increase consumer response around their key marketing initiatives. Kristy has been a speaker at conferences like Dreamforce and INBOUND, and she has had work published by Time, CNNMoney, Fortune and more.