Increasing Loyalty Conversions: An Urgency Marketing Workshop


Loyalty engagement has increased over the past year. So has marketing on every other channel. Yet, according to our recent research, which highlights both of the previous points, consumers currently feel less overwhelmed by loyalty than by all other main marketing channels, including social media, email, SMS/text and mobile app.
On top of loyalty being a key channel according to consumer preferences, we all know it's good for business. And in a world consumed by the growth of third-party order aggregators and one-click purchase options, cultivating loyalty with your customers directly is becoming even more critical by the day.
All of this is to say, your loyalty goals are especially important in this unique moment. This interactive webinar will show you how to accelerate performance against them.
We'll walk you through a step-by-step approach to increasing consumer motivation around any key conversion points you need to strengthen along your customers' loyalty journey. As part of this, you'll learn:
The science behind psychological motivators like anticipation, scarcity, social proof and competition

How to seamlessly incorporate these motivators into key loyalty initiatives across the customer journey

Tactical ideas and best practices to consider when rolling out urgency marketing to enhance your existing loyalty tactics
You'll walk away with a specific plan for leveraging urgency marketing to achieve your specific loyalty goals, while adding excitement into your program.
Fill out the form to start watching the on-demand webinar.

ABOUT THE SPEAKER: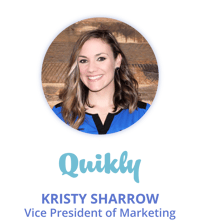 Kristy is head of marketing at Quikly, a technology platform that leverages incentives and psychology to help brands immediately increase consumer response around their key marketing initiatives. She's been a speaker at conferences like Dreamforce and INBOUND and has had work published by Time, CNNMoney, Fortune and more.