Increasing Email Marketing Conversions: An Urgency Marketing Workshop


Join us Nov. 18 at 10:30 a.m. PT // 1:30 p.m. ET!
There are all sorts of conversions — from acquiring email subscribers to engaging and retaining them — that need to happen in order for your email marketing strategy to be an effective one. Urgency marketing can help, and this webinar will show you how.
We'll walk you through a step-by-step approach to increasing consumer motivation around any key conversion points you need to strengthen along your subscribers' email marketing journey. As part of this, you'll learn:
The science behind the psychological motivators that fuel urgency, like anticipation, scarcity, social proof and competition

How to seamlessly incorporate these motivators into key email marketing initiatives across the customer journey

Tactical ideas and best practices around urgency marketing, as well as results achieved by industry leaders
You'll walk away with a specific plan for leveraging urgency marketing to achieve your specific email marketing goals while adding excitement into your program.

Note: This webinar is especially relevant for email marketers at consumer-facing brands, such as those within retail, restaurant, finance and grocer.
Fill out the form to save your seat.

ABOUT THE SPEAKER: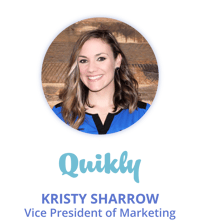 Kristy is head of marketing at Quikly, a technology platform that leverages incentives and psychology to help brands immediately increase consumer response around key marketing initiatives. She's been a speaker at conferences like Dreamforce and INBOUND, taught marketing sessions at the University of Michigan and had writing/reporting published by Time, CNNMoney, Fortune and more.